Cat Steals Hundreds of Dollars Worth of Goods From Neighbors
He has been doing it for years, allegedly.
A woman in the United Kingdom recently discovered that her cat had stolen hundreds of dollars worth of goods from her neighbors, helping himself to items in their yards and homes and bringing his loot home through the cat door. For the past four years, the felonious feline has pilfered a variety of food and goods, including a purse, sports bras, and deli meat. British media caught up with the cat, named Harry, and its owner after he had just come off a weeklong theft spree.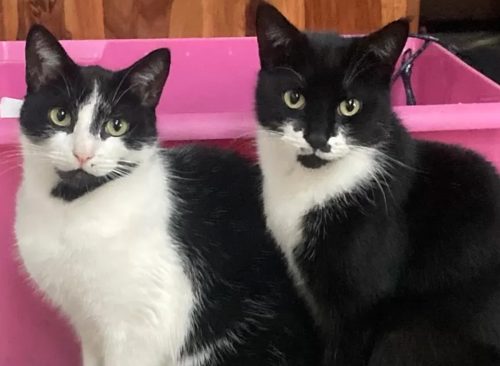 "So my cats are thieves and have brought many objects through the cat flap over the years – a baseball cap, sausages, cat meat pouches, slippers, socks and even a shoe," owner Donna Hibbert posted on Facebook. "I do often wonder if anyone has seen them running along with such items in their mouths and what they make of it."
Harry, who lives in Derby, is fond of taking items off clotheslines, Hibbert said. His brother Luna also brings home items, but they tend to be less troublesome, such as empty cigarette boxes and potato chip bags.
2
Owner Fesses Up on Neighborhood Facebook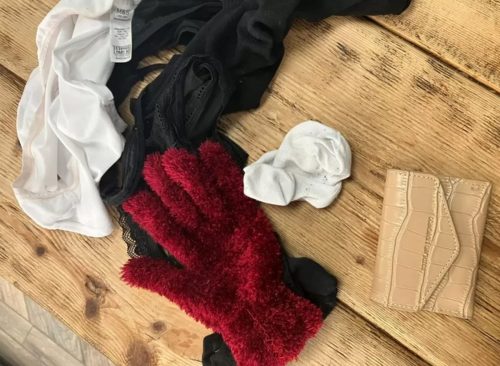 Having estimated that her cats had nabbed about $370 worth of goods from around the neighborhood—six items in the last week alone—Hibbert began posting on Facebook in a bid to return the items to their rightful owners.
"I thought I best start posting the treats on here because somewhere there is someone thinking they have gone mad with misplacing things. You haven't," she said in a post. "It's my cats and I can only apologize. If the belongings are yours and want them back, do PM me."
3
Expensive Taste Evident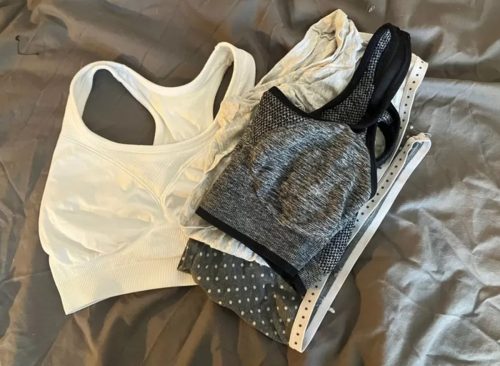 Harry appeared to have expensive taste, his owner said. "There was a red shoe, and it was quite an expensive brand," Hibbert told BBC News. "The sports bras are from M&S, so they are not going to be cheap. We had a purse the other day, but nothing was in it."
Neighbors have started to come forward on the Spotted: Darley Abbey Facebook page to claim the items. "They are off my washing line. I keep buying new sports bras," one person commented. "Just the tops, the bottoms may be another neighbor."
4
Another Chronically Thieving Cat in Oregon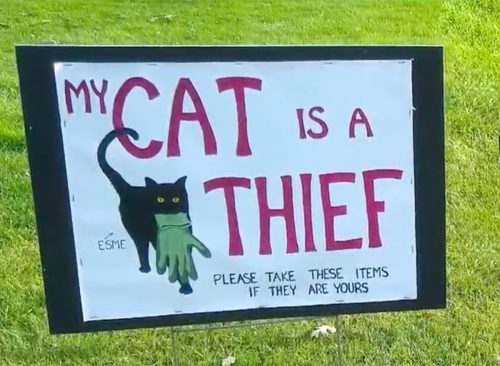 Harry isn't the only cat who's gone after neighbors' goods. In Beaverton, Oregon, in 2021, Kate Felmet posted a large sign that read "MY CAT IS A THIEF" in her front yard next to a clothesline full of items nabbed by her cat Esme.
The lineup included several pairs of gloves and fabric face masks. Felmet had previously returned the items during door-to-door "apology rounds" but decided to go big.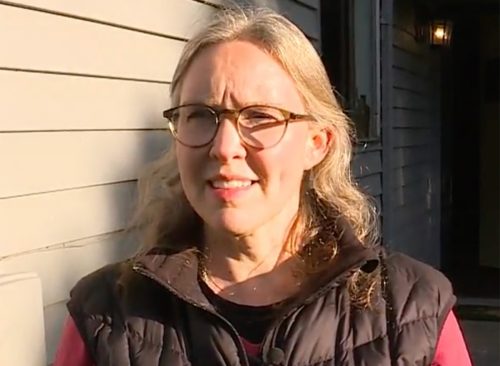 "It does seem like she has some sort of uncanny ability to bring on stuff that has to do with what we're doing at the time," said Felmet of the cat's choices in merchandise. One time, Esme brought her owner tape and paint roller covers while she was painting her daughter's bedroom.
The neighbors were mostly amused by the thievery, but Felmet said things were still "awkward with the family from whom Esme has stolen the same pair of kneepads out of their garage three times."