9-Foot Alligator Trapped in Backyard Surprises Homeowner
A North Carolina homeowner had an unexpected visitor.
A North Carolina homeowner had an unexpected visitor last Saturday when a nine-foot-long alligator wandered into a fenced-in yard and got stuck when the gate closed behind it. Luckily, the resident of Sunset Beach saw the giant reptile before going outside and alerted police. "The alligator had unsuccessfully attempted to exit through the rails of the fence. The resident could tell the alligator couldn't get out, and decided it was time to call for help," authorities said in a news release.
1
"The Alligator Wasn't Happy"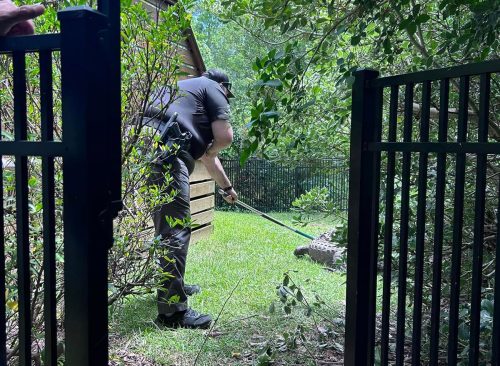 "Out of concern for the safety of the alligator, officers came to its aid," the Sunset Beach police posted on their Facebook page. "The alligator wasn't happy, as it didn't realize (officers) were there to help." Three officers responded, and photos show them snaring the alligator with catch poles that kept its jaws shut, allowing them to remove it from the yard. The alligator was loaded into the back of a pickup truck and "returned to the neighborhood pond," the police department said. 
2
Praise for Alligator Wrestlers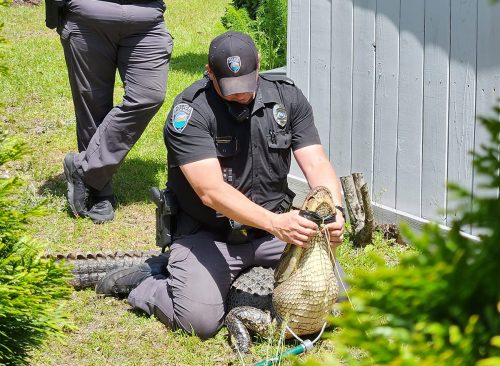 A next-door neighbor, Linda Townsend, posted about the removal on her Facebook page. She praised the "alligator wrestlers" and shared photos and video showing they were "fearless" as they pulled the hissing alligator from the yard. "We think the gate wasn't latched," Townsend wrote on Facebook. "She went in, it closed and she was trapped. They do not climb these metal fences."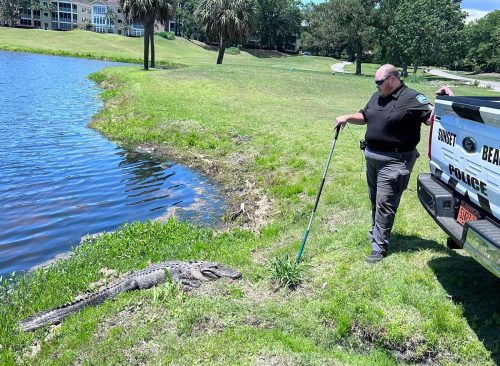 Alligators can grow as big as 13 feet and 500 pounds, state wildlife officials say. May through June is when most alligator sightings occur, when the warm weather encourages males to wander into new areas in search of females. "Alligators are dangerous animals. Do not approach them or allow children to approach them. Alligators can move very quickly over short distances. Never feed alligators. Feeding alligators teaches them that humans are sources of food, which could lead to injury or even death," Sunset Beach police advised in their Facebook post.
4
Man Bitten By Alligator Outside His Front Door
Of course, not all alligator tales end so warmly. Earlier this spring, a Florida man was attacked by a nine-foot-long alligator after he opened the front door to his house. The gator had apparently been waiting for him outside. According to police, Scott Hollingsworth heard a noise outside his Daytona Beach home. Thinking it was someone looking for his son, he opened the front door to investigate. Then an alligator lunged at him and bit him on the upper thigh. "Something grabbed me on the leg and started shaking violently," he said. 
At first, Hollingsworth assumed the animal was a dog. Soon he realized it was a gator. Shocked, Hollingsworth closed the door and discovered he had a huge gash on his leg. Police officers called in a trapper from Florida Fish and Wildlife Conservation Commission, who euthanized the animal. Meanwhile, Hollingsworth was taken to the hospital where he underwent surgery for non-life-threatening injuries. "Fortunately, there's no damage to my knee, which I was concerned about. Everything's going well," he said.