111 Invasive Baby Pythons Found in Single Nest, Setting New Record in Florida
The mother was "still laying" eggs when the nest was discovered. 
Humans rarely give birth to more than one baby at a time. The average litter for cats is 3 to 5 kittens. Dogs have 4 to 6 puppies, while rabbits care for up to 10 bunnies and rats, 18 pups per litter. But can you imagine caring for a whopping 111 babies at once? According to a new report, a nest of baby pythons was recently discovered and the mama python was hovering over a record-setting 111 eggs. 
1
A Female Burmsese Python Had a Nest of 111 Eggs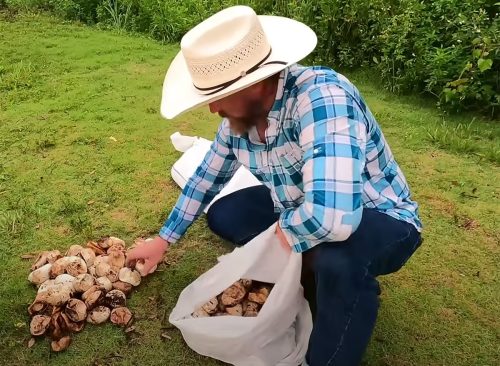 On July 7, a python was captured in the Everglades at the Francis S. Taylor Wildlife Management Area. According to the Florida Fish and Wildlife Conservation Commission, the mother python was carrying for 111 eggs, well above the state record. According to the group it isn't uncommon for a female python to lay 50 to 100 eggs per nest. 
2
The Mother Was Coiled to Attack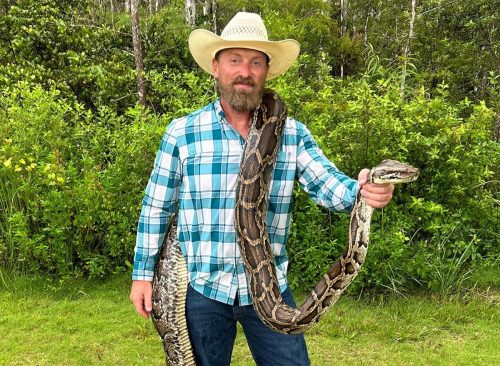 Brandon Rahe, a contractor with the FWC's Python Action Team, took a boat to reach the Burmese python nest, hidden in dead grass and weeds. When he reached the nest, the mother didn't appear to be at the nest. However, he looked over and saw her coiled, ready to strike. 
3
She Was "Literally, Like, Still Laying" Eggs
The 13-foot, 9-inch mother snake lunged to bite him. However, he gripped her head and pulled her from the nest. Multiple eggs "squirted out" during the capture, according to a video filmed. "She's literally, like, still laying," Rahe says in the video.
4
She Will Become a "Scout Snake"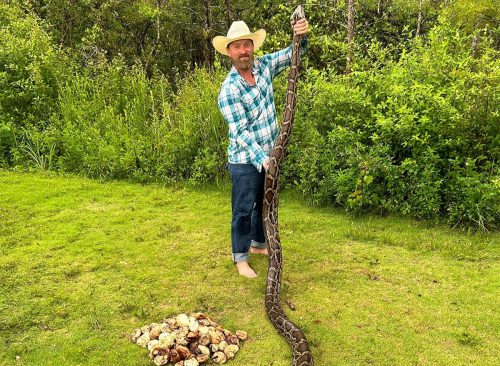 The 111 eggs counted crushed shells and intact eggs, according to officials. Instead of having the mother euthanized, the FWC tagged her for a telemetry program. "She's going to become a scout snake," he says in the video. 
5
She Will Have a GPS Tracker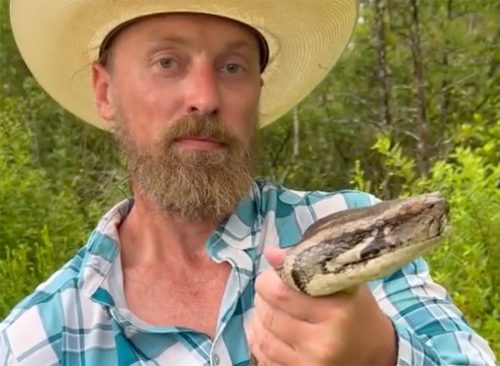 "They're going to put a GPS tracker in her and they are going to re-release her out into the wild, which sounds a little crazy. But that leads us to other snakes and tells us a lot about their habits and how they move around," he explained. 
6
The Longest Python Was Also Reported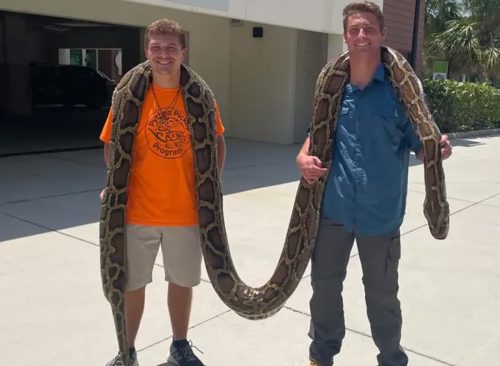 On the same day, the Conservancy for Southwest Florida reported a 19-foot python found on July 10 in Big Cypress National Preserve. This exceeded the state record for the largest python and possibly the world record for length.