After Disney Ride is "Cancelled," People Are Selling "Genuine Splash Mountain Water" for $45
The cost can range from $8 up to $1,000.
Walt Disney World's longtime ride Splash Mountain closed on Monday, and it didn't take long for online entrepreneurs to try and cash in. The ride had been closed so it could undergo a complete makeover. Several sellers on eBay used this fact and are now offering small amounts of "genuine Splash Mountain water" collected from the ride at a range of prices—from $8 up to $1,000. Read on to find out more about what's for sale, how online commenters are reacting, and why Splash Mountain's days came to an end.
1
Same Product, Range of Prices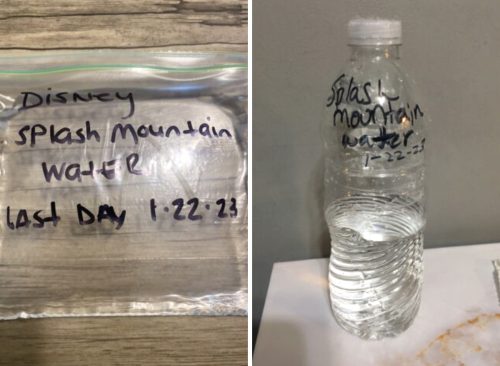 The Splash Mountain ride contained 950,000 gallons of water. On eBay, sellers offered to part with small fractions of that for a price. The New York Times reported that prices ranged from $8.50 to $25 for a plastic bag with "Splash Mountain water" written on it in marker. One listing featured a reusable bottle allegedly containing 10 ounces from the ride's last day for $7.99. Another seller offered four ounces of water in a Mason jar for $149.95.
2
Joke Listings, Real Memorabilia Found Online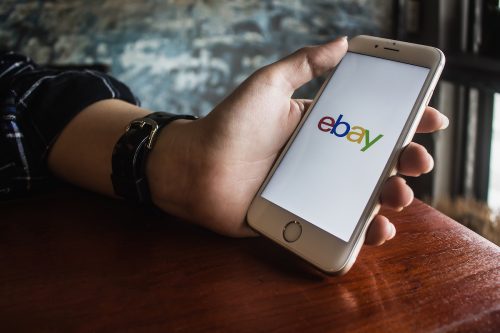 Disney experts told CNN that most of the listings were probably jokes, which wouldn't be unusual. But Splash Mountain nostalgia is very real: Wait times for the ride stretched to four hours on the weekend before it closed. And other ephemera from the ride is also for sale: Since 2018, Splash Mountain had been sponsored by Ziploc, which handed out bags to keep riders' belongings dry.
Those bags are now being sold online for as much as $40. Other online sales include replica props from the ride, employee badges, old paper ride tickets, and plastic cups, CNN reported.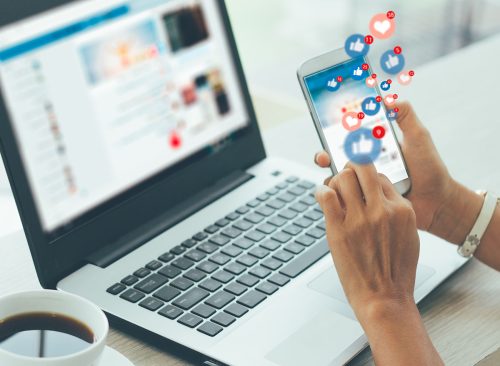 The water sales did not meet with universal approval online, however. "I can understand keeping some for yourself because you were there when it existed, and you know it's genuine and you'll have a good memory to look back on. I can't understand why anyone else would want it. There's no way to verify it's authenticity. For all you know you could be buying pool water someone shoved in a jar and called 'Splash Mountain water,'" said one commenter on Reddit.
"​​Well, Disney uses bromine instead of chlorine to keep the water clean. That has a distinct smell and smell triggers nostalgia. I can see the idea behind this, but the scam prices are laughable," wrote another. "Nothing wrong with selling it imo. Buying it would be pretty dumb," said another.
4
Joke Listing Offers Bag, Sink Water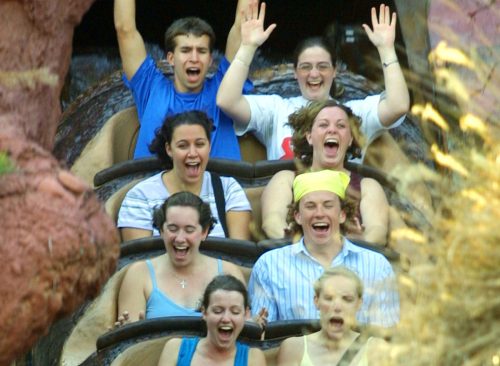 One satirical eBay listing offered a "Great Value Sandwich Bag of Toilet Water from Restroom by Splash Mountain." Another offered an old Splash Mountain Ziploc bag and a jar filled with "tap water from my sink" for $25,000. "This is obviously just for fun and to make fun of the people who are really selling water from a ride," the seller wrote on the latter listing. "I'm a Disney fan but come on people, has the world gotten so doomed that people would buy water from a ride."
5
Why Did Splash Mountain Close?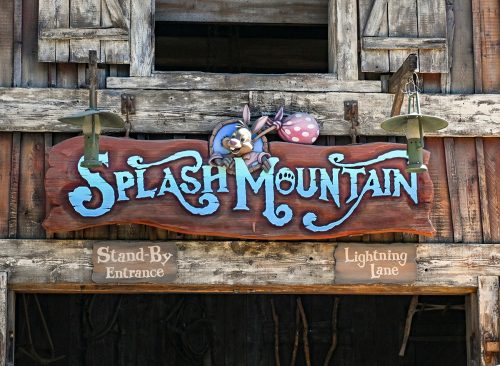 Walt Disney World's Splash Mountain has closed for a complete renovation. It will return as a Princess and the Frog-inspired ride and restaurant called "Tiana's Bayou Adventure," which is scheduled to open in late 2024. Disneyland's version of the ride will also close, but a date hasn't been set.
In recent years, the Splash Mountain rides came in for criticism because its characters are taken from Disney's 1946 movie Song of the South. That film has been criticized as racist for presenting stereotypical Black male characters and a romanticized view of the post-Civil War South.